Who We Are & Where We Meet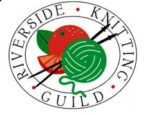 We are a group of knitters & crocheters who meet monthly on the 1st Saturday of the month at 10:15 am at the Casa Blanca Public Library, 2985 Madison St., Riverside, CA  92504. Click here for contact information and directions.
We are a member Guild of The Knitting Guild Association of America.
We support our community by making charitable contributions by knitting for Precious Pals, Red Scarves, and Preemie Hats for the local hospital.
Our desire is to advance the knowledge and enjoyment of knitting and crochet skills in a friendly active environment. We encourage knitters and crocheters of all skill levels to join. We hold workshops with local and national designers, work together as a group on some projects, hold challenges for creative skills, and learn from each other in our"Show 'N Share" projects.
Please come, join us as a guest and bring a current project to "Show 'N Share."  If you are having a problem with a project, we have many members available who would be glad to assist you. We love to share what we have learned with others.
What We Offer
We hold monthly business meetings where our members share projects they are working on . Several times a year, we offer classes and workshops.  There may be a fee attached to these special events, dependent upon teachers' charges and materials used.
 You can check our Calendar of Upcoming Events for more details.
Membership Details
We welcome guests for a one-time attendance and after that we hope you will become a member. We have an annual membership fee of $15.00 payable by January 31. You can download the RKG Membership form for more details.
By-Laws, Standing Rules, and a Membership List will be sent to all new members via e-mail once you have become a member in good standing of the Riverside Knitting Guild.
Outreach
We use our knitting & crochet skills to support several causes in our community. We partner with the Riverside Fire Department & Mental Health agency through our Precious Pals program. We support the foster youth program through our Red Scarves program. We also knit & crochet preemie hats for Riverside Community Hospital.