We are committed to helping our community through our knitting & crochet. We support (and knit for) the following charities.
American Heart Association (Little Hats, Big Hearts) – Program to raise awareness of congenital heart defects. We knit hats for newborns & babies with congenital heart defects. Use soft red acrylic yarn such as Carrons Simply Soft to knit or crochet appropriately sized hats. The hats will be collected through out the year and turned over at our November meeting.

Precious Pals – We knit clothes for stuffed toy bears and donate them to the Riverside Fire Department and the Riverside County Mental Health Department, Parent Support. We supply the bears for our members to dress and decorate. The bears are donated at the November meeting.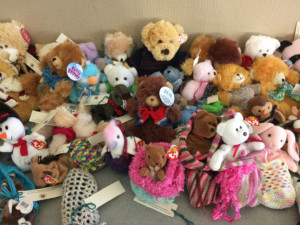 Red Scarf Project – Knitted or crochet scarves, hats, gloves, gauntlets, etc. are donated to the Riverside County Department of Social Services for teenagers who are aged-out of foster care. While this is called the red scarf project you can use any color yarn. As mentioned above the collected scarves etc are collected throughout the year and donated at the November meeting.